University of Bonn's Vis Moot Team 2023/24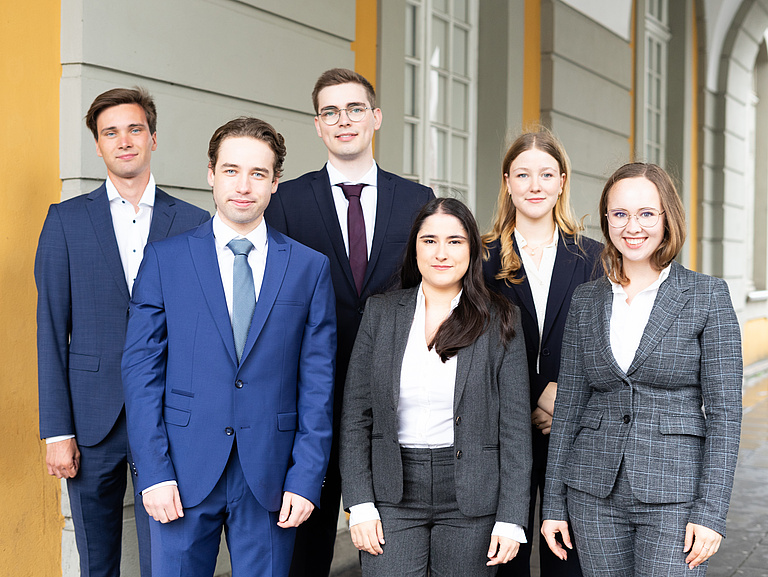 Bette Liv Wissing is 21 years old and studying law in her sixth semester with a focus on Comparative and International Private Law. As a participant in the FFA program, Bette has broadened her knowledge of international law, particularly Anglo-American Law, and improved her English skills by taking part in an In-House Moot Court. During this practice Moot Court, she gained valuable skills to advance her research, writing and oral advocacy, and was able to receive feedback from experienced legal professionals. Having also studied abroad during her school years, Bette's experiences have challenged her to step outside her comfort zone. Excited to be part of the Vis Moot Court Team's journey, Bette is committed to further her legal research skills and eagerly anticipates collaborating with her team-members.
Alexander Quincke is 20 years old and is studying law in his fourth semester at the University of Bonn. He was introduced to foreign languages early on, being raised bilingual and later choosing to graduate secondary school with a bilingual Abitur. Thereby he has gained valuable insight into different cultures through the challenges that come with a bilingual upbringing. He attended courses on the Anglo-Amercian Law System to further broaden his knowledge of Common Law. He is currently interning at an international law firm in Frankfurt in order to gain valuable practical experience. With his interest in international business relations, as well as his affinity for languages, Alexander is looking forward to new challenging experiences. From the Moot Court he expects to gain further insight into the practical side of law and meet students and professionals from all over the globe.
Noah Heerlien is 20 years old and currently studying law in his fourth semester. Having attended an international kindergarten as a child, he not only grew up bilingual, but was also exposed to a variety of different cultures at an early age. Since then he has continuously shown an interest in learning new languages. Apart from his proficiency in English, he also speaks French and has acquired basic knowledge of Russian. His legal studies are heavily influenced by his passion for civil law. In addition, Noah is ambitious and motivated to get involved in international commercial law and arbitration. As a driven student, he is looking forward to the opportunity to demonstrate his new-found skills in a competitive environment. Noah is looking forward to gaining valuable practical experience and broaden his legal horizons as a team.
Julian Mengen is 22 years old and is studying law and economics in his sixth semester and law in his fourth semester at the University of Bonn. He has participated in the FFA program for three semesters during which he improved his English and teamworking skills. Thereby, he discovered his interest for commercial arbitration and Moot Courts. In addition, he has recently been employed at the Deutsche Institution für Schiedsgerichtsbarkeit e. V. Bonn (DIS). Through his employment he has gained valuable insights regarding commercial arbitration and is eager to apply his knowledge during the Vis Moot Court. Besides that, his involvement in the Debattierclub Bonn e. V. has greatly shaped his debating rhetoric and enhanced his abilities, utilizing his presentation skills and furthermore acquiring practical experience during the upcoming Moot Court season.