21 April 2023 - Ramadan Fest
Da der heiligste Monat für Musliminnen und Muslime, die von Sonnenaufgang bis Sonnenuntergang fasten und sich mit spirituellen Reflexionen, Gebeten und Taten der Nächstenliebe befassen, am 21. April 2023 zu Ende ging, luden wir zu unserem Ramadan-Fest ein. Bei dieser Feier schlossen wir uns unseren Kolleginnen und Kollegen an, und haben uns morgens vor Dienstbeginn für süße Leckereien und Kaffee und Tee zusammengefunden.
As the holiest month for Muslims, during which they fast from dawn to sunset and engage in spiritual reflection, prayer, and acts of charity, came to a close, we hosted our Ramadan Festival. We joined our colleagues in this celebration and gathered in the morning for sweet treats and coffee and tea before the start of our day.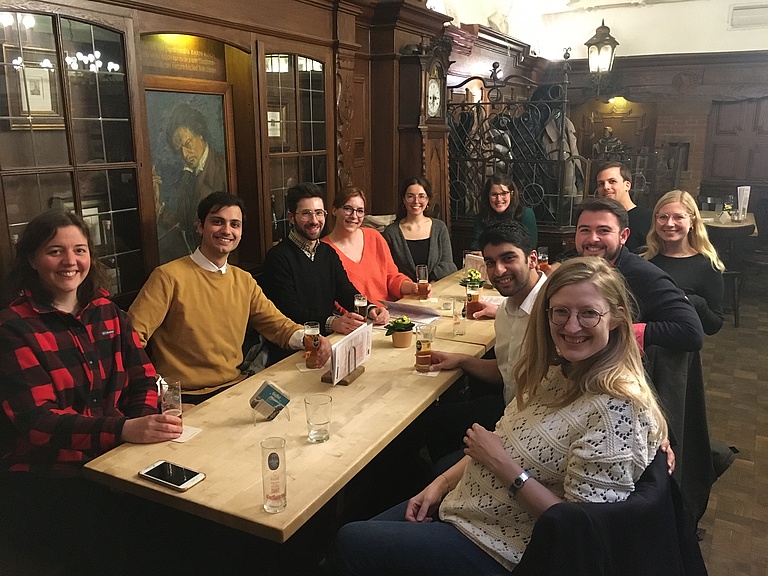 20 April 2023 - AjV Stammtisch
Am 20.4.2023 fand der "Rheinland Stammtisch" des AjV (Arbeitskreis junger Völkerrechtswissenschaftler*innen) in Bonn statt. Bei rheinländischer Brauhauskost und Kölsch verbrachten einige Mitglieder des Instituts einen geselligen Abend mit Kolleginnen und Kollegen aus Köln, Düsseldorf und darüber hinaus. Wir freuen uns auf das nächste Mal!
15 April 2023 - Stadionbesuch
Am 15. April 2023 besuchten Mitglieder des Instituts für Völkerrecht das RheinEnergie Stadion - und fieberten für den 1. FC Köln. Trotz anfänglichen Rückstands konnte der Effzeh erfolgreich den Ausgleichtreffer gegen den 1. FSV Mainz 05 erzielen und über weite Teile in der zweiten Hälfte spielbestimmend in Erscheinung treten. Wir gratulieren zu diesem wichtigen Punkt im Kampf um die Europa League Plätze!
On 15 April 2023, members of the Institute for Public International Law visited the RheinEnergie Stadium - and cheered for 1. FC Köln. Despite trailing at the beginning, the Effzeh successfully scored the equaliser against 1. FSV Mainz 05 and dominated the game for large parts of the second half. Congratulations on this important point in the fight for spots in the Europa League!